Being paid late can be bothersome at times. Yet, small businesses hesitate in asking for payments for a service rendered or product sold. Days and weeks pass by and late-paying clients walk over you.
So to prevent yourself from becoming a doormat, you have to step up your game. One way to do so is to implement payment reminders into your business strategy. You have your tools for completing projects, invoicing platforms like easy invoice manager by GimBooks to send out payment requests, and now you need email templates for the late payers.
Best practices for payment reminders

What to Include in Your Payment Reminders?
When you send a client a payment reminder, it's critical that you include all relevant details. If you're dealing with a business, then they likely have many emails coming in. So you want your payment reminder to be clear about who it's from and why it's important to read. Make sure to include your company name/contact name in the subject line and at the beginning of the email, so they know who it's from and what it's regarding. Make sure your payment reminder doesn't get unnoticed.

Always remember, the more information you provide to your customers about their recent orders,  the more they will take care of payment reminders without all the back and forth.

It is essential to provide all the relevant details like payment history, order details, and account balance. You must also mention the mode of payment accepted by your firm and make sure to include online payments to settle invoices as early as possible.

You must also include your contact details, in case the customers need to contact you about any other issues.


Tips to avoid late payers-
Automate your e-invoicing process.
Consider charging late fees for late payment and make it clear in payment terms.
Improve your invoicing process.

Gimbooks. Why? How?
Easy invoice manager By GimBooks is one of the best-rated apps on the play store. One of the most striking features of Easy Invoice Manager by GimBooks is sending gentle payment reminders to the customers. Create E-invoices on the go for every business. Easy Invoice Manager by GimBooks helps you get payment settled professionally.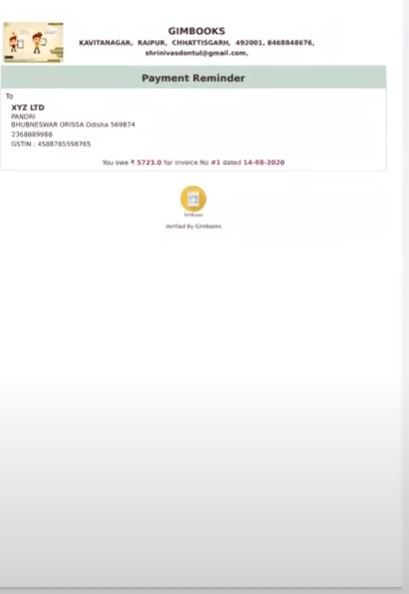 How to send gentle payment reminders using Gimbooks-
Open easy invoice manager by GimBooks and open the "invoices section".
Choose the firm that you wish to send a payment reminder.
Click the "send reminder" button.
A pop-up with two options namely "ledger" or "invoice#[invoice number]" comes up. Choose accordingly.
Check the reminder amount and paid amount, and bring the necessary changes if required.
Share gentle payment reminders on the go through WhatsApp, mail, etc.  The sent payment reminder will have all the necessary details(due date, invoice number, remaining amount, paid amount)